---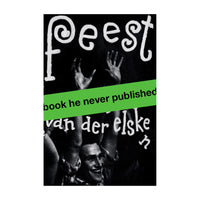 Ed van der Elsken: Feest
A previously unpublished photobook gem from Ed van der Elsken, the enfant terrible of Dutch photography famed for Love on the Left Bank
Around 1960, Ed van der Elsken assembled a photobook on the theme of feasts. Drawing from both old and new work, he produced a dazzling sequence of festive occasions: fun, celebration, dancing, music, fairs, carnivals, excitement and euphoria, but also drunkenness and exhaustion in the early hours. Van der Elsken combined his photographs into sparkling and rhythmical pairings, so that a genuine sense of joy emanates from the pages.

Nonetheless, for reasons unknown, the work was left on the shelf. Feest was, therefore, one of the great surprises in Van der Elsken's archive when it was acquired by the Rijksmuseum and the Nederlands Fotomuseum in 2019. Now, 60 years after the photographer worked on the design with scissors and tape, this lively book is being published after all, in the intimate and compact format that he originally envisaged.

Ed van der Elsken (1925–90) began photographing in Holland in the late 1940s. In the 1950s he left Holland for Paris, where he encountered and documented the bohemian society of Saint-Germain-de-Prés, including the protagonists of the Lettrist and Situationist International. At the suggestion of Edward Steichen, whom van der Elsken met in Paris, he rendered these images as a photographic novel, Love on the Left Bank, which brought him instant fame. Van der Elsken went on to publish numerous books, including Bagara (1957), Jazz (1959), Sweet Life (1966), Eye Love You (1977), Amsterdam! (1979) and Once upon a Time (1981).