---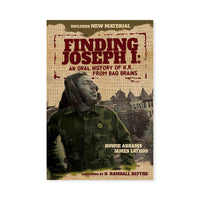 Finding Joseph I: An Oral History of H.R. from Bad Brains
A thoroughly uncensored rollercoaster ride through the riotous, tumultuous and utterly singular life and career of one of rock's most enigmatic singers—now updated with new material and a new foreword by Randall J. Blythe of Lamb of God.
A Rough Trade Book of the Year (2017)


"Must-read for any fan of both Bad Brains and their enigmatic vocalist" 
No Echo


This gripping oral history features H.R. himself and the people who know him best, including Ian MacKaye, Questlove and members of Sublime and the Deftones.

The spiritual leader of Bad Brains was one of the most iconic and legendary front men in punk rock and hardcore. Paul "H.R." Hudson launched his unique, ferocious vocal assault and dynamic physical showmanship with love and Rasta in his heart, along with a hopefulness seldom found in punk. His journey has been riddled with unprecedented volatility: drugs, violence, disappearances and a debilitating mental illness. The disorder was so powerful?and the suffering so severe?that it's difficult to fathom how he even survived. How could one so tremendously troubled produce such an incredible body of work and have made such an impact?


Finding Joseph I

 
features interviews with H.R.'s family, bandmates, friends, and those he has influenced and inspired. Interviewees include members of Bad Brains, Guns N' Roses, Black Flag, Living Colour, 311, Fishbone, the Wailers, Cro-Mags, Dead Prez, Murphy's Law, P.O.D., Michael Franti & Spearhead and many more. Packed with many rare and never-before-seen images, 
Finding Joseph I
 is the definitive account of the punk rock icon.