---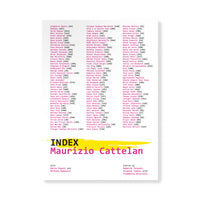 Maurizio Cattelan: Index
This massive volume, published in conjunction with the artist's exhibition at Pirelli HangarBicocca, collects for the first time all of the conversations that Maurizio Cattelan (born 1960) has been conducting for 20 years, as interviewer. The dialogues, of which there are more than 130, were published between 2001 and 2021 in numerous magazines, including 
Flash Art Italia
, 
International
, 
Purple Magazine
, 
Vogue
 and 
Il Manifesto
, as well as in monographs and exhibition catalogs.
Maurizio Cattelan: Index
 presents these conversations in facsimile form, maintaining the text and original layout of each publication, resulting in a lively kaleidoscope of voices and images. Appraising the list of people interviewed and reading the texts, an astonishing chorus takes shape, comprising young and upcoming artists, established figures and those who are now deceased and part of history, as well as creatives from other disciplines such as architects, designers, chefs, thinkers, entertainers and performers.
Among the interviewees are luminaries such as Alighiero Boetti, Phil Collins, Ferran Adrià, Alex Da Corte, Seth Price, Urs Fischer, Dash Snow, Martine Syms, Paul Chan, Carol Rama, Takashi Murakami, Felix Gonzalez-Torres, George Condo, Jerry Saltz, Virgil Abloh, Chloë Sevigny, Dana Schutz and more.