---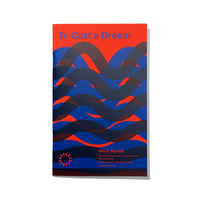 To Cast A Dream
Wale Ayinla is the winner of the sixth annual Toi Derricotte + Cornelius Eady Chapbook Prize. Created through a partnership between Cave Canem, The Writer's Room at the Betsy Hotel, and O, Miami Poetry Festival, the prize honors one chapbook manuscript a year by a black poet, regardless of the poet's publication history or career status. The manuscript was selected by Mahogany L. Browne.
Browne notes: "The collection, To Cast a Dream, serves as both eulogy and ode; to the water, to the land, and to the survival of voice. Song, Ocean, Skin, Lapis and Lift — these moments of liberation are the pulse of the poetry. And they beckon us closer, to the page and to ourselves. Who revels in the shine of this literary legacy? Wale Ayinla."
Wale Ayinla is a Nigerian poet, essayist, and editor. His works recently appeared or are forthcoming on Guernica, South Dakota Review, TriQuarterly, Rhino Poetry, UpTheStaircase Quarterly, The LitQuarterly, Cimarron Review, Ruminate Magazine, McNeese Review, Poet Lore, and elsewhere. He is a staff reader for Adroit Journal. He has a Pushcart prize nomination and several Best of the Net and Best New Poets Award nominations. In 2020, he was a finalist for numerous prizes which include the Jack Grapes Poetry Prize, and his manuscript, Sea Blues on Water Meridian was a finalist for the inaugural Center for African American Poetry and Poetics (CAAPP) Book Prize.
Cover design and layout by Topos Graphics
Publication of this chapbook was made possible through support from the John S. and James L. Knight Foundation, Miami-Dade County, and Schmidt Family Foundation.